Follow OSP International LLC at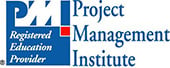 This website was developed to provide information about Project Management Professional (PMP)® Exam Study Guides. We wanted to publish our own free guides as well as publish reviews of guides from authors. It is a division of OSP International LLC. We are a small project management training company in Silverado, California and we also produce The PM PrepCast, The PM Exam Simulator, The PDU Podcast, The Project Management Podcast and a number of other products to help you prepare for the PMP® exam.
Our philosophy is to produce exceptional project management training. We put a lot of effort into planning everything because we want the final product to be outstanding. That way you not only have an easy way of preparing for the exam but you also receive a training that has a lasting effect on your career as a Project Manager so that it is not something that you "watch and forget".
OSP International LLC has been reviewed and approved as a provider of project management training by the Project Management Institute (PMI)®. As a PMI® Registered Education Provider (R.E.P.), OSP International LLC has agreed to abide by PMI® established quality assurance criteria.
You can find us in the PMI® provider database - Just do a search for "OSP International LLC" in the Provider Name field and you will see our company listed. Our PMI® R.E.P. number is 3023.
Please click the red "Support" box on the left hand side to send us a message.